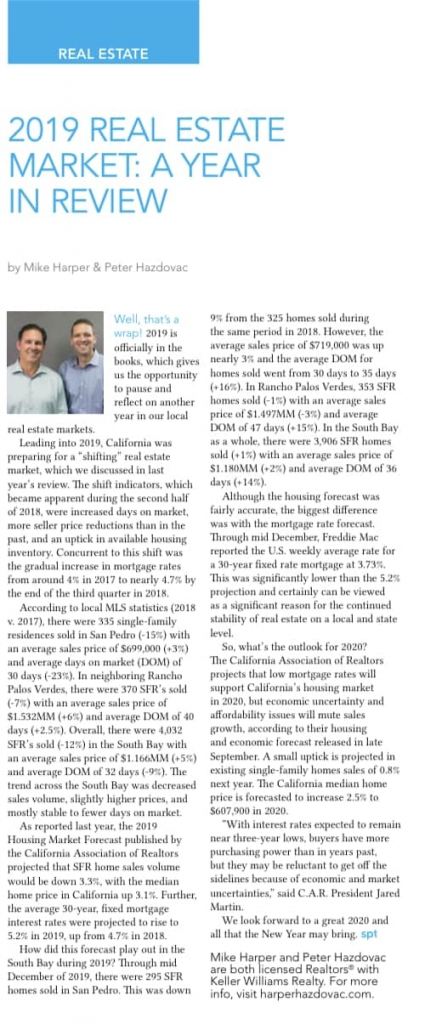 2019 Real Estate Market – A Year in Review
Well, that's a wrap! 2019 is officially in the books, which gives us the opportunity to pause and reflect on another year in our local real estate markets.
Leading into 2019, California was preparing for a "shifting" real estate market, which we discussed in last year's review. The "shift" indicators, which became apparent during the second half of 2018, were increased days on market, more seller price reductions than in the past and an uptick in available housing inventory. Concurrent to this "shift" was the gradual increase in mortgage rates from around 4% in 2017 to nearly 4.7% by the end of the third quarter in 2018.
According to local MLS statistics (2018 v. 2017), there were 335 single-family residences sold in San Pedro (-15%) with an average sales price of $699,000 (+3%) and average days on market (DOM) of 30 days (-23%). In neighboring Rancho Palos Verdes there were 370 SFR's sold (-7%) with an average sales price of $1.532MM (+6%) and average DOM of 40 days (+2.5%). Overall, there were 4,032 SFR's sold (-12%) in the South Bay with an average sales price of $1.166MM (+5%) and average DOM of 32 days (-9%). The trend across the South Bay was decreased sales volume, slightly higher prices and mostly stable to fewer days on market.
As reported last year, the 2019 Housing Market Forecast published by the California Association of Realtors® projected that SFR home sales volume would be down 3.3%, with the median home price in California up 3.1%. Further, the average 30-year, fixed mortgage interest rates were projected to rise to 5.2% in 2019, up from 4.7% in 2018.
How did this forecast play out in the South Bay during 2019? Through mid December of 2019 there were 295 SFR homes sold in San Pedro. This was down 9% from the 325 homes sold during the same period in 2018. However, the average sales price of $719,000 was up nearly 3% and the average DOM for homes sold went from 30 days to 35 days (+16%). In the Rancho Palos Verdes, 353 SFR homes sold (-1%) with an average sales price of $1.497MM (-3%) and average DOM of 47 days (+15%). In the South Bay as a whole, there were 3,906 SFR homes sold (+1%) with an average sales price of $1.180MM (+2%) and average DOM of 36 days (+14%).
Although the housing forecast was fairly accurate, the biggest difference was with the mortgage rate forecast. Through mid December, Freddie Mac reported the US weekly average rate for a 30-year fixed rate mortgage at 3.73%. This was significantly lower than the 5.2% projection and certainly can be viewed as a significant reason for the continued stability of real estate on a local and state level.
So what's the outlook for 2020? The California Association of Realtors® projects that low mortgage rates will support California's housing market in 2020 but economic uncertainty and affordability issues will mute sales growth, according to their housing and economic forecast released in late September. A small uptick is projected in existing single-family homes sales of 0.8% next year. The California median home price is forecasted to increase 2.5% to $607,900 in 2020.
"With interest rates expected to remain near three-year lows, buyers have more purchasing power than in years past, but they may be reluctant to get off the sidelines because of economic and market uncertainties," said C.A.R. President Jared Martin.
We look forward to a great 2020 and all that the New Year may bring! `
Mike Harper and Peter Hazdovac are both licensed Realtors® with Keller Williams Realty. For more info, visit www.hhcoastal.com.