Over the last several years this statement has become a regular occurrence during many of our meetings with homeowners. So much so that we make it a priority to check the value of a home on Zillow prior to sitting down with a potential client. But what exactly is Zillow and how does it operate? We wanted to use this column to provide more information on this topic and also relate it to our local real estate market.
To quickly summarize, Zillow was established in 2006 as a website where property owners could sell or rent their homes or apartments. The Zillow platform was based on selling advertising space to consumers as well as vendors looking to market their properties and businesses. The popularity of the platform has grown tremendously over the years as consumers clearly enjoy the convenience of having a resource that allows them to do their own research on available listings and housing data. How is Zillow able to provide this information to consumers? Zillow has negotiated data sharing and syndication agreements with local Multiple Listing Service (MLS) providers, where millions of properties are inputted for sale, lease and then reported when sold. The information gathered through these MLS providers is then processed through Zillow to provide a single platform for users to view.
Many consumers that we have talked to seem to love the Zestimate feature. Zestimate is a Zillow feature that allows consumers to input their address to get an immediate estimated value of their home. But how accurate is this? Zillow has created an algorithm to price your home based simply on comparable homes in a specific radius of a home or zip code with similar square footage. They are not able to take into consideration the condition, upgrades, location on street, views, etc. In San Pedro and our surrounding local markets, it is possible that a home with ocean views or other important attributes is not properly accounted for in a Zestimate. Other significant factors, which can't be quantified, are current market conditions, overwhelming buyer demand, and the fundamentals of supply and demand. Keep in mind, a Zestimate is determined by a computer and not a person. While a Zestimate may provide a reasonable assessment of value for a home in some cases, it should not take the place of a formal appraisal or having a local real estate professional that is familiar with the characteristics of a home and features of a community to provide a more thorough assessment of your home's value.
Another aspect of Zillow that consumers may or may not be aware of is how real estate agents are selected to be "Premier Agents" on their site. "Premier Agents" pay for placement on the Zillow platform so that their profile is spotlighted, increasing the likelihood of generating more consumer leads. Keep in mind that this allows agents from other areas to market in different zip codes based on their paid advertising. When selecting a Realtor®, one factor should be that they have a good understating of the local real estate market and can accurately analyze the value of your home. The "Shop Local" mentality, which we are strong supporters of, also applies to the real estate market.
As with most industries, evolution due to technology provides efficiency and can improve the overall marketplace. Zillow did this for our industry by providing housing information to every homeowner with the click of a mouse. With that in mind, local real estate agents show their worth by providing accurate values, professionally marketing your home and negotiating the best possible price for the homeowner. As San Pedro's housing demand continues to increase, we are setting records for home values month over month. Heading toward 2022, we are excited to see what next year brings to our real estate market along with the continued redevelopment and improvement of our town.
Mike Harper and Peter Hazdovac are both licensed Realtors® with Keller Williams Realty. For more info., visit www.hhcoastal.com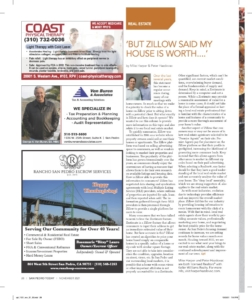 [/fusion_text][/fusion_builder_column][/fusion_builder_row][/fusion_builder_container]