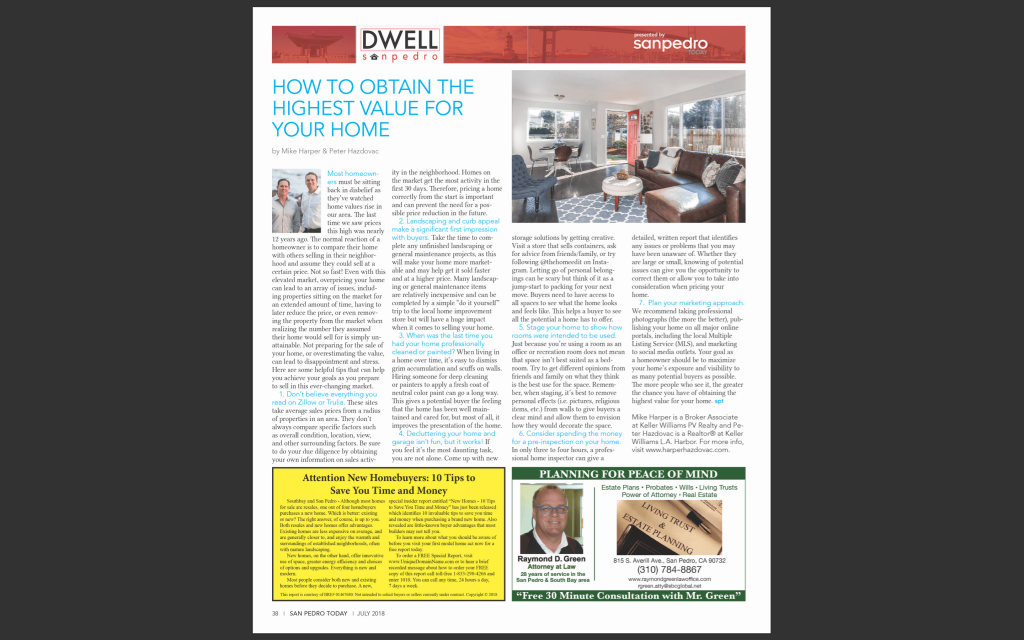 Most homeowners must be sitting back in disbelief as they've watched home values rise in our area. The last time we saw prices this high was nearly 12 years ago. The normal reaction of a homeowner is to compare their home with others selling in their neighborhood and assume they could sell at a certain price. Not so fast! Even with this elevated market, overpricing your home can lead to an array of issues, including: properties sitting on the market for an extended amount of time, having to later reduce the price, or even removing the property from the market when realizing the number they assumed their home would sell for is simply unattainable. Not preparing for the sale of your home or overestimating the value can lead to disappointment and stress. Here are some helpful tips that can help you achieve your goals as you prepare to sell in this ever-changing market:
1.Don't believe everything you read on Zillow or Trulia. These sites take average sales prices from a radius of properties in an area. They don't always compare specific factors such as overall condition, location, view and other surrounding factors. Be sure to do your due diligence by obtaining your own information on sales activity in the neighborhood. Homes on the market get the most activity in the first 30 days. Therefore, pricing a home correctly from the start is important and can prevent the need for a possible price reduction in the future.
Nice landscaping and curb appeal make a significant first impression with buyers. Take the time to complete any unfinished landscaping or general maintenance projects, as this will make your home more marketable and may help get it sold faster and at a higher price. Many landscaping or general maintenance items are relatively inexpensive and can be completed by a simple "do-it yourself" trip to the local home improvement store, but will have a huge impact when it comes to selling your home.
When was the last time you had your home professionally cleaned or painted? When living in a home over time it's easy to dismiss grime accumulation and scuffs on walls. Hiring someone for deep cleaning or painters to apply a fresh coat of neutral color paint can go a long way. This gives a potential buyer the feeling that the home has been well maintained and cared for, but most of all it improves the presentation of the home.
Decluttering your home and garage isn't fun, but it works! If you feel it's the most daunting task, you are not alone! Come up with new storage solutions by getting creative: visit a store that sells containers, ask for advice from friends/family, or try following The Home Edit on Instagram. Letting go of personal belongings can be scary, but think of it as a jump-start to packing for your next move. Buyers need to have access to all spaces to see what the home looks and feels like. This helps a buyer to see ALL the potential a home has to offer.
Stage your home to show how rooms were intended to be used. Just because you are using a room as an office or recreation room does not mean that space isn't best suited as a bedroom. Try to get different opinions from friends and family on what they think is the best use for the space. Remember, when staging it's best to remove personal effects (i.e. pictures, religious items, etc.) from walls to give buyers a clear mind and allow them to envision how they would decorate the space.
Consider spending the money for a pre inspection on your home. In only three to four hours, a professional home inspector can give a detailed, written report that identifies any issues or problems that you may have been unaware of. Whether they are large or small, knowing of potential issues can give you the opportunity to correct them or allow you to take into consideration when pricing your home.
The final step to consider before listing your home is planning your marketing approach. We recommend taking professional photographs (the more the better), publishing your home on all major online portals, including the local Multiple Listing Service (MLS), and marketing to social media outlets. Your goal as a homeowner should be to maximize your home's exposure and visibility to as many potential buyers as possible. The more people who see it, the greater the chance you have of obtaining the highest value for your home.