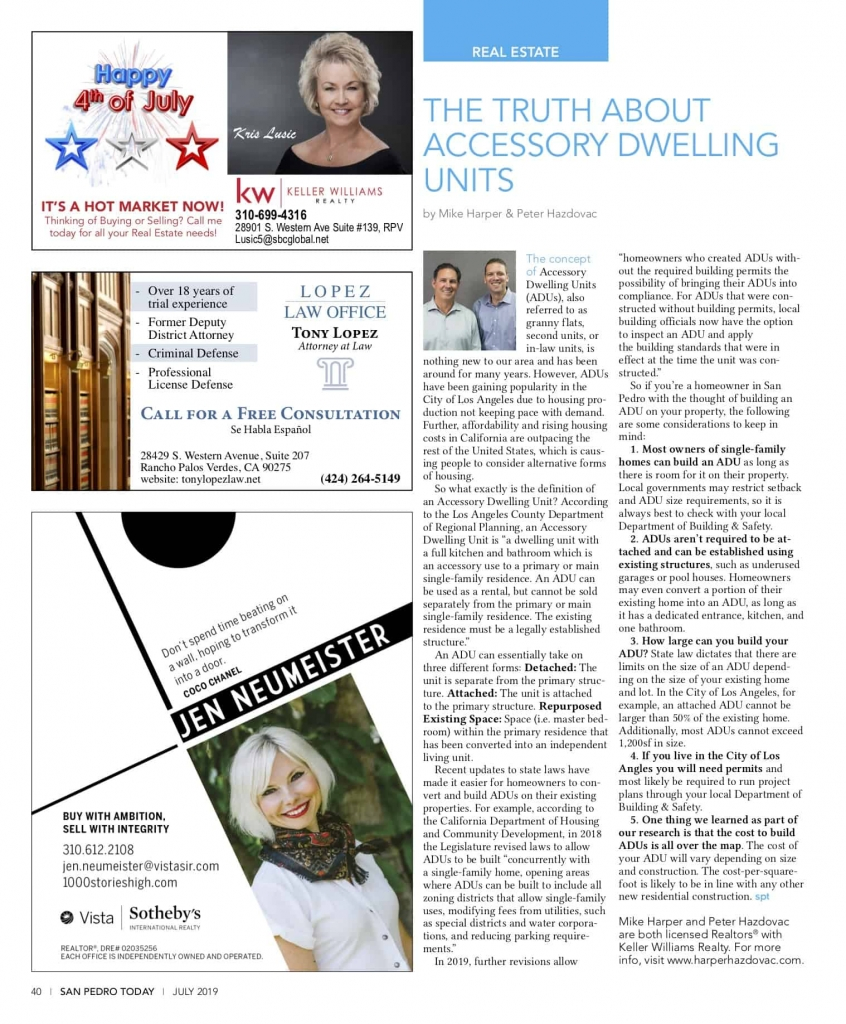 The concept of Accessory Dwelling Units (ADUs), also referred to as granny flats, second units, or in-law units, is nothing new to our area and has been around for many years. However, ADUs have been gaining popularity in the City of Los Angeles due to housing production not keeping pace with demand. Further, affordability and rising housing costs in California are outpacing the rest of the United States, which is causing people to consider alternative forms of housing.
So what exactly is the definition of an Accessory Dwelling Unit? According to the Los Angeles County Department of Regional Planning, an Accessory Dwelling Unit is "a dwelling unit with a full kitchen and bathroom which is an accessory use to a primary or main single-family residence. An ADU can be used as a rental, but cannot be sold separately from the primary or main single-family residence. The existing residence must be a legally established structure."
An ADU can essentially take on three different forms:
*Detached: The unit is separate from the primary structure.
*Attached: The unit is attached to the primary structure.
*Repurposed Existing Space: Space (i.e. master bedroom) within the primary residence that has been converted into an independent living unit.
Recent updates to state laws have made it easier for homeowners to convert and build ADUs on their existing properties. For example, according to the California Department of Housing and Community Development, in 2018 the Legislature revised laws to allow ADUs to be built "concurrently with a single-family home, opening areas where ADUs can be built to include all zoning districts that allow single-family uses, modifying fees from utilities, such as special districts and water corporations, and reducing parking requirements." In 2019, further revisions allow "homeowners who created ADUs without the required building permits the possibility of bringing their ADUs into compliance. For ADUs that were constructed without building permits, local building officials now have the option to inspect an ADU and apply the building standards that were in effect at the time the unit was constructed."
So if you're a homeowner in San Pedro with the thought of building an ADU on your property, following are some considerations to keep in mind:
Most owners of single-family homes can build an ADU as long as there is room for it on their property. Local governments may restrict setback and ADU size requirements so it is always best to check with your local Department of Building & Safety.
ADUs aren't required to be attached and can be established using existing structures, such as underused garages or pool houses. Homeowners may even convert a portion of their existing home into an ADU, as long as it has a dedicated entrance, kitchen, and one bathroom.
How large can you build your ADU? State law dictates that there are limits on the size of an ADU depending on the size or your existing home and lot. In the City of Los Angeles, for example, an attached ADU cannot be larger than 50% of the existing home. Additionally, most ADUs cannot exceed 1,200sf in size.
If you live in the City of Los Angles you will need permits and most likely be required to run project plans through your local Department of Building & Safety.
One thing we learned as part of our research is that the cost to build ADUs is all over the map. The cost of your ADU will vary depending on size and construction. The cost-per-square-foot is likely to be in line with any other new residential construction.
Mike Harper and Peter Hazdovac are both licensed Realtors® with Keller Williams Realty. For more info, visit www.hhcoastal.com.